Meet in MET
Dating APP for the Metropolitian Museum of Art
INSTRUCTOR
Hoshi Ludwig
Tomoko Yates



ROLE
UX and research: With 3 other group memebers
UI and visual: myself
TOOL
Sketch, Principle, Photoshop and Illustrator

Context
Metropolitan Museum of Art is always crowded. And Met Museum sets record with
7.35 Million
visitors in a year.
(January 4, 2019)
Too crowded
Too Big
Too much
Boring
Bad Guidance
Goal
Instead of trying to solve the problem of the daily congestion, perhaps we can take advantage of this situation.

Solution
Taking advantage of the crowded environment, Meet in Met matches you with the person who shares a similar taste of art with you.
It will help the users facilitate an intimate interaction with your match during a short customized art tour in the Met.
Target Audience
Millennials who enjoy meeting new people in different situations as well as those who like to go to museums in their spare time. Perfect for tourists as well.
Resarch

" You get to learn a lot about how people think without the regular formulaic, "What do you do and how big is your family?"
https://www.metmuseum.org/connections/date_night
Reviews about other dating apps
"After a brief introduction about yourself, there is always an embarrassing silence. It is very difficult to find a topic to talk about if you don't know anything about that person's interests at all."
" There are already lots of dating apps. They are all similar - you basically decide whether to go further or not based on their appearance."
Wireframe


UI Elements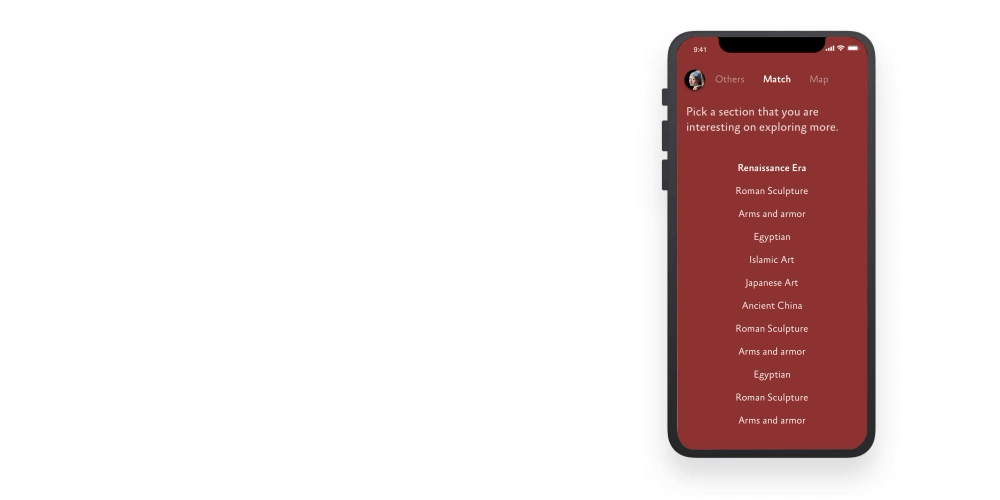 **This is a school project that I've done during my senior year in college.